I just finished up sewing a headdress! w00t! But the only thing is I made it too small for me so I'm gonna sell it!
It's limited only to the U.S since I have no idea how much it would be to ship to another country. @.@ Shipping is $3. Post your bids here. :)
I'll automatically send it to you'd like to buy it for $10. I need to receive the payment through PayPal first before I can send it out.
Hmm...I think that's it! :)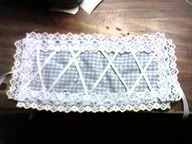 It's 3 1/2 by 8 inches.